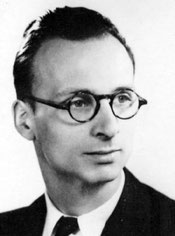 Jehan Alain was born on February 3, 1911 in Saint-Germain-en-Laye near Paris, into a musical family. His father, Albert Alain (1880-1971), a pupil of Guilmant and Vierne, was an organist and a composer of religious music. His brother, Olivier, and his two sisters, Marie-Odile and Marie-Claire were also to become musicians and organists.
From the age of thirteen, Jehan Alain was his father's assistant as organist in his native town. At the Conservatoire National Supérieur de Musique de Paris, he was the pupil of André Bloch, Georges Caussade, Paul Dukas, Roger Ducasse and Marcel Dupré. He won first prizes for harmony, counterpoint and fugue, organ and improvisation.
His Suite pour orgue was awarded a first prize in composition in the competition of Les Amis de l'Orgue in 1936. In that same year, he was appointed titular organist of Saint-Nicolas in Maisons-Laffite. Throughout his short life he never ceased to compose for the piano, the organ, chamber music and voices (soloists and choirs) and the orchestra. His catalog comprises some 120 works. His Litanies are in organists' repertory the world over. Mobilised in 1939, in full creativity, he died in action on June 20, 1940 in the defence of Saumur. He was twenty-nine years old.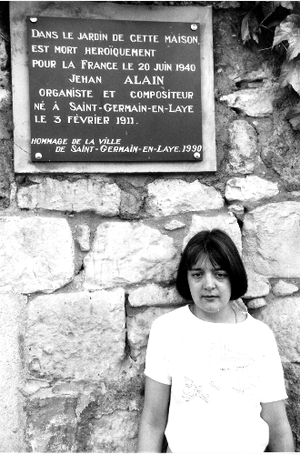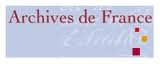 Programme des manifestations : Jehan Alain
Edition : Parutions prévues en 2011 :
Jehan Alain, L'œuvre d'Orgue (3 volumes) - Edition par Helga Schauerte-Maubouet, Bärenreiter Kassel (D) - (BA 8428, 8429, 8430), 2011
Organisateurs : Association Pro-Musica de l'Eglise Ev.Allemande de Paris
Lieu : Eglise Evangélique Allemande de Paris - 25 rue Blanche - 75009 Paris - Entrée Libre 
22 mai au 19 juin 2011 : Exposition Jehan Alain
L'exposition célèbre le centenaire de la naissance du compositeur en offrant un regard nouveau sur sa création : (Photos, Lettres, manuscrits musicaux autographes)
22 mai 2011 - 12h : Concert : Jehan Alain - l'idéal fugitif de l'artiste
Intermezzo (première audition française de la version pour 2 violons, alto, violoncelle et piano) - Messe modale en septuor (Soprano, contralto, flûte, quatuor à cordes)
Avec Helga Schauerte (orgue), Emmanuelle Dijon (soprano), Jean-François Lefèvre (contralto),
Eva-Maria Schieffer (flûte), Rüdiger Alkert (alto), Susanne Pflüger (violoncelle), Theresia Pflüger, Kunigunde Schauerte (violons), Anna Schauerte (piano)
5 juin 2011 - 12h : Concert et conférence : Jehan Alain et ses contemporains : Maurice Ravel, Jacques Beers, Leo Smit
Avec Irene Maessen (soprano), Eleonore Pameijer (flûte traversière), Marcel Worms (piano),
Jurjen Vis (piano et conférencier)
19 juin 2011 - 12h : Concert et conférence : Hommage à Jehan Alain, Mort pour la France
Oeuvres de Jehan Alain, Langlais, Duruflé - conférence : Jehan Alain, épistolier infatigable
Avec : Helga Schauerte (orgue et conférencière) et le concours de la chorale «Magnificat »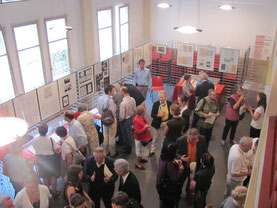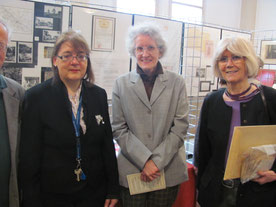 Since January 2011 the works of the French composer Jehan Alain (1911-1940) have been in public domain in the countries where the copyright term is limited to 70 years. Many recent biographical articles repeat the statement printed on the cover of the Leduc editions1 released since 2001. There you read: "Throughout his short life he never ceased to compose, for the piano, the organ, chamber music, voices (soloists and chorus), and the orchestra. His catalogue comprises some 140 works." Whereas the preface of the new Bärenreiter edition of his complete organ works2 stipulates: "In spite of his youthful age, he left some 120 compositions to posterity".
Jehan Alain kept a numbered and thematic index of his works. However, his so-called Catalogue3 included neither his whole oeuvre nor did the compositions listed in it appear in the chronological order of their creation. It is merely a list of works with entries for 128 titles and themes, updated until 1938. Found in the list are not only elaborated themes, but also those yet to be developed. For example, the two entries under the numbers 99 and 100 are designated as "improvisation ideas."4 The list also includes some transcriptions of works by Bach and Händel.
During the ten years of his compositional activity, did Jehan Alain write 140 or (only!) 120 works? Referring to volume II (page XI) of the new Bärenreiter edition, the following text will give some insight regarding his music and may clarify some of the problems of the Alain composition catalogues
The composer used his numberings just to arrange and to keep in order the files of his manuscripts. He did not use these numbers in the sense of "opus" numbers. For instance, he referred to the Postlude pour l'Office de Complies as "opus 1" and he labeled a manuscript page of the Variations sur un thème de Clément Jannequin as "op. 13." The numbers in his Catalogue are entirely different: there the Postlude is number 29 and the Jannequin Variations are listed under number 118. In addition, as the result of an oversight, the composer's catalogue displays a disrupted numbering system: the numbers 102 to 111 were not assigned
In 1945, in his biography Jehan Alain: Musicien français, Bernard Gavoty published his own newly compiled compositions catalogue. Listing ninety-three works – short pieces and transcriptions are omitted – it includes only a part of the complete oeuvre. As far as the chronological order is concerned, the Postlude (from 1930), erroneously dated here to 1932, is number 21. The Variations received number 78.
...
After exhaustive study of the autographs in the possession of the Alain family as well as of additional music manuscripts held in various personal collections, I compiled a new chronological catalogue which was published in 1983 in my study Jehan Alain. Das Orgelwerk: Eine monographische Studie (French translation, "Jehan Alain. L'homme et l'œuvre," L'Orgue, Dossier III, Paris 1985). Without transcriptions and unfinished or lost works, this catalogue contains 120 titles. In 1999, this catalogue which was then referred to by the abbreviation AWV (Alain Werke Verzeichnis) was adopted by the new edition of MGG (Die Musik in Geschichte und Gegenwart: Allgemeine Enzyklopädie der Musik, 2nd edn) as well as in 2001 by the New Grove Dictionary of Music and Musicians, 2nd edn).
At the same time, between 2001 and 2003, a new Collected Works edition was issued by Leduc. Edited by Marie-Claire Alain the works were now for the first time provided with a "JA" catalogue number referring to the composer's fragmentary numbering list of his works. The composer's file was posthumously completed by adding the numbers 129 to 143; the missing numbers 102 to 111 were not assigned to a piece of music. In 2008, for an unknown reason, the online version of the Grove Dictionary erased the AWV-catalogue in favour of the JA-catalogue. 143 "works" (including transcriptions, ideas or themes for improvisation) are listed; ten of them (JA 102 to JA 111) are invalid numbers
140 or 120 works ? Is it just a matter of misleading calculating ?
1 L'Œuvre d'Orgue de Jehan Alain, Nouvelle édition revue d'après les sources par Marie-Claire Alain, 3 volumes, Leduc : Paris, 2001-2003.
2 Jehan Alain, L'Œuvre d'Orgue, édité par Helga Schauerte-Maubouet,
3 volumes, Bärenreiter : Kassel, 2011 3 See the fac-simile in Marie-Claire Alain, Notes critiques sur l'œuvre d'orgue de Jehan Alain (Leduc: Paris, 2001), pp. 16–24.
4 These are only a very few measures in length. They were published in volume III (Paris: Leduc, 1943, p. 32) under the titles Christe eleison and Amen. They were more recently republished under the titles Christe, eleison and Deuxième Amen in Seize pièces pour piano (Paris: Leduc, 1992)
Helga Schauerte
AS WE CELEBRATE the centennial in 2011 of the birth of Jehan Alain Ariste(1911–40), the opportunity to speak with one of his foremostdisciples may open windows to many who have yet to explore the wealth of his organ compositions.
Helga Schauerte, through her concert tours and CDs (the complete organ works of Jehan Alain, Johann Sebastian Bach, and Dieterich Buxtehude, portraits of Buttstett, Corrette, Reger, Boëllmann,Dubois, and Langlais, comprising some 30 recordings), as well as her musicological research, has within a few years become one of the outstanding musicians of her generation. Organist of the German Lutheran Church in Paris, teacher at the Conservatoire Nadia et Lili Boulanger, also in Paris, lecturerand jury member for international organ competitions, Schauerte maintains a brilliant career as a performing artist in Europe and throughout theUnited States.
Since 1990, her biography has been included in the International Who's Who in Music, and she has been selected to be included in 2,000 Outstanding Musicians of the 20th Century.
Our friendship of 25 years is rooted in a mutual love for Jehan Alain's musicand in an insatiable curiosity about the personality and philosophies of this complex musician and composer.
Saint-Germain-en-Laye, a suburb eleven miles west of Paris overlooking the Seine, was both Alain's birthplace and final resting place. The oldest of four musically gifted children, Alain grew up surrounded by music. His father, Albert, who was the titular organist of the parish church in Saint-Germain- en-Laye and a composer and organbuilder, conveyed to his children the fruits of study with the renowned musican-composers Louis Vierne, Alexandre Guilmant, and Gabriel Fauré. Jehan's grandmother, Alice Alberty, was an excellent pianist. Jehan inherited from his grandmother not only musical genes but an attachment to literature coupled with a gift for poetic expression. Jehan's sister Marie- Odile (1914–37) was an outstanding soprano and talented pianist; his brother Olivier (1918–95) was an acknowledged musicologist, critic, and composer; and Marie-Claire, youngest of the siblings (b. 1926), is a worldrenowned concert organist, recording artist, and teacher...
Having learned the fundamentals of piano techniques and harmony from his father, Jehan was sufficiently skilled at age eleven to begin substituting as organist at the parish church in Saint-Germain- en-Laye while his father traveled between it and several other churches in the region that he served. Proceeding from this foundation to private piano tutelage with August Pierson, titular organist of the Cathédrale Saint-Louis-de- Versaille, Jehan developed additional skills, which included an extremely supple and rapid wrist motion resulting in mastery of the rapid staccato technique that was demanded later by many of his piano and organ compositions.The piano was his instrument of choice until enrolling in 1934 in the organ class of Marcel Dupré at the Paris Conservatory, where he had begun music studies in 1927, interrupting his normal secondary-school regimen. He said of himself upon undertaking organ study that he "was neither pianist nor organist, only a bit of an acrobat and scarcely an improviser: a sort of genuine (sincere) charleton!" It is the organist Jehan Alain, however, who is known to the world outside France, for it is his organ compositions that have found their way onto recital programs from the mid-1950s and that have gained in importance as major competition and performance repertoire alongside the compositions of his contemporaries.
Alain commenced prolific composition in 1929 after enrolling in the harmony class of André Bloch at the conservatory. His subsequent study of counterpoint and fugue with Georges Caussade and of composition, first with Paul Dukas and then with Jean Roger- Ducasse, increased his store of knowledge but may not, however, have influenced his individualistic compositional style as much as those currents outside the narrow confines of the conservatory. The Paris Colonial Exhibition of 1931 affected him immensely, introducing him to the music, dance, and philosophies of the Far East. Other influences were the early jazz movement, the rebirth of interest in music of the Baroque era, and modality as expressed in Gregorian chant.
Much of his composing was accomplished under other than structured circumstances, i.e., while on the train en route from Saint-Germain-en-Laye to Paris; secretly on his lap during classes at the Paris Conservatoire; or while on vacation with his family in the Alps. Encompassing the media of organ, solo voice, choir, strings, and woodwinds, as well as piano, and essentially distinguished by a clarity of writing, richness of tonal colors, and diversity of rhythm, his body of more than 130 compositions embraces a high degree of intensely intimate expression and explosive vitality.
Peggy Kelley Reinburg
Copyright 2011, by the American Guild of Organists.
Reproduced by permission of The American Organist Magazine.
1 Setting the stage for our conversation regarding your career and your championing of Jehan Alain's compositions, would you recount some of your childhood musical experiences in your hometown, near Cologne, Germany, that led to your interest in the organ, and also relate how you were introduced to studying the organ at an early age?
When I was a child I was attracted by the colors and the sound of the historical organ that stood in our neighborhood church, but I didn't have access to it until I became organist of that church at the age of 13. My first public appearance as a church organist, however, occurred three years earlier, by accident, precisely one day after my tenth birthday. The pastor of another church was searching an organist to play two services. He called my father to ask if my brother was available. My brother was not in town, but as I was able to improvise and accompany all church hymns in F-major, I was engaged on the spot. The entire service, though, had to be in F-major! My first solo organ recital was at the age of 17.
2 What was your formal music education in Germany and what drew you, a German native, to Paris?
After earning the baccalaureate degree (1976) I studied music at the Staatliche Hochschule für Musik Köln, as well as philosophy and pedagogy at the University of the City of Cologne. In the organ class of Viktor Lukas, the repertory focalized on Bach and Reger. To study French and Italian organ music, I participated in summer organ courses with Marie-Claire Alain (Saint-Donat, 1978), André Marchal, Xavier Darasse (Toulouse 1979), Michael Radulescu and Luigi Tagliavini (1982). As I had fallen in love with the person and music of Jehan Alain, and almost nothing about the composer was available in German language, I decided in 1981 to continue my organ studies with Marie-Claire Alain in Paris and, at the same time, to do research about her brother. That year I also met Jean Langlais, who entrusted me with the first performance of several of his organ works.
3. How did you establish your professional position in Paris?
During my studies, in December 1982, I was appointed organist of the German Lutheran Church in Paris. I established several organ classes: in Paris at the Conservatoire Nadia et Lili Boulanger, in Andresy, and at the French-German Music School in Saint-Cloud. I also created an annual organ academy in Pontaumur (near Clérmont-Ferrand) to promote German Organ Music, utilizing the French copy of J. S. Bach's organ of Arnstadt.
4 What sparked your initial interest in Jehan Alain and what prompted you to specialize in researching his life and in performing his organ works?
It is difficult to explain why one is passionate about something. Maybe I was totally charmed by the freedom and the independence of this music. I felled that Jehan Alain's music needed performers who enjoyed a certain way of unconventional playing. I got the impression that the music called for discovery and that I was going to discover it while living in France.
5. I remember performing my first recital in your church in 1987and traveling from there to the International Congress of Organists in Cambridge and London, and from there going to Kiel, Germany to perform. You were at the same time continuing research on Alain's wartime experiences and death in Saumur, France, and phoned me in Kiel to tell me a modern-day "fairy tale!" Would you please recount that lovely story?
Alain was a skilled and passionate motorcyclist. During World War II he served as a dispatch rider. On June 20, 1940, assigned to reconnoiter the German advance on the eastern side of Saumur, he encountered a company of German soldiers, attacked, and was killed in action. He was buried the same day near the place where he had died.
In the summer 1987, just after you had left Paris, I took the train to do research in Saumur. In consideration of my coming, one of the majors of the city had gathered four witnesses in the house that was next to the property where Jehan Alain had died. Among them was Marthe Guibert, 92 years old, who had given a linen sheet in which to bury the body (see the photograph of Alain's first grave). After the discussion with all the witnesses I asked to see the exact place of the composers' first provisory grave. This, however, seemed to be impossible: the house and the garden were surrounded by a high wall and served only as vacation home for a Parisian family. As I insisted on ringing the doorbell, surprisingly Philippe, who later became my husband, opened the gate. He had just arrived by car from Paris to mow the lawn. My surprise was matched by his, because he had never before heard the name of Jehan Alain!
Probably it was destiny that we met again the same evening at an organ concert in the city. After the concert I happened to learn the address of Alain's military chaplain from someone in the audience. It was a two-hour drive from Saumur to meet this person, and I didn't have a car. Philippe immediately offered his assistance in accomplishing the interview, and (I am not going into details) we married one year later in Saumur. Alain's daughter, Lise Delamare, commented on the wedding, which was transformed into a three-day, joyful celebration French-German friendship, as follows : "Je dois dire que la manière dont vous avez fait la connaissance de votre fiancé me touche beaucoup: c'est un peu comme si mon père à qui vous avez consacré une si grande partie de vote vie, vous avait conduit vers lui… » (I must say that the manner in which you have met your fiancé touches me greatly. It is somehow as if my father, to whom you have devoted a large part of your life, had brought you together…)
6. How has your relationship with Bärenreiter developed, and what editorial projects have resulted?
The first contact was an invitation from the editor to contribute to the new edition of the MGG. Later, in 1999, Bärenreiter invited me again to write about French organ subjects for the Handbuch Orgelmusik (700 pages), supervised by Rudolf Faber and Philipp Hartmann and published in 2002. I took the opportunity to ask if the editor was interested in an Urtext edition of Alain's organ works to be published in 2011, when the copyrights expired. Juergen Bonn, the person responsible for the organ department, accepted my proposal straightaway. At that time he was looking for a scholar to work on a Boëllmann urtext edition, and he thought I was the right person. Our very enjoyable cooperation has proved to be quite prolific. Since the first volume of Boëllmann (2002) I have prepared and published some 20 volumes of music, including the organ music of Theodore Dubois, the organ and piano music of Louis Vierne, and the choral music of Marc-Antoine Charpentier.
7 Please elaborate upon the forthcoming Alain Edition which you have prepared for Bärenreiter for publication early in 2011. How does this edition differ from those previously published?
As I mentionned before, it will be the first urtext edition of his music. It will be based on the critical examination and evaluation of all the autographs known today. It endeavors to be philologically consistent in solving the editorial problems that have surfaced since the first editions appeared. Unfortunately, the first editions were prepared during World War II. They cover only on about 70% of the autographs that are known today. Missing indications in the manuscripts that were used for the first edition were added to the scores by other members of the Alain family (successively by Albert and Olivier Alain, and later by Marie-Claire Alain) without specifying that these were not original elements. No one seemed to be concerned about the amalgam until, in June 1986, I published my first article, "Jehan Alain and his Deuxième Fantaisie" in THE AMERICAN ORGANIST. In December 1989, I discussed the editorial problems with Leduc, Alain's main editor, in the hope of working on a new edition in collaboration with my respected teacher, Marie-Claire Alain.
8 You have gathered a number of Alain manuscripts into the Schauerte-Maubouet Collection. Would you offer examples of how findings in some of these prompted your new edition?
I will give you two examples: First, Jehan Alain composed his Intermezzo in 1934. There are three versions of the piece: for string quartet with piano (first version, unpublished), for two pianos and bassoon (second version) and for organ (third version). The organ version is rather difficult to play, as it makes use of a double pedal with separate registrations. Up to now, there has been no solution for this exceptional technical challenge; in fact, the piece, as written, was not performable, not even on the Alain house organ. In the new Bärenreiter edition, there are two versions of this organ piece - one from 1934 and another, completely unknown previously, from 1936 - and one will learn for which organ the Intermezzo was composed and to whom it was dedicated.
Second, in 1942, while the first edition was in preparation, the three-stave organ manuscript of the Premier Prélude profane was not at hand. Albert Alain published a transcription that he compiled from the two-stave piano manuscript. In 1987, I was given access to some 40 musical autographs in the home of Lola Bluhm, who was a friend of Alain's. Among the manuscripts I discovered the lost organ version, which is very different from father Alain's transcription. I recorded the piece by playing from the autograph in June 1989. The two CDs comprising my performance of the complete organ works, as well as an improvisation played by Jehan Alain himself, were released in 1990. They are still available from the German label Motette; the recorded Premier Prélude profane will now (20 years later) correspond with its printed version in the Bärenreiter edition.
9 You have recorded the complete organ works of Jehan Alain, as well as those of Buxtehude and Johann Sebastian Bach, in addition to recordings of compositions by Walther, Corrette, Reger, Boëllmann, Langlais and others. What has driven you to pursue such projects and how do you find time and concentration for them in the midst of your professional obligations as a church musician, conservatory professor, musicologist, and recitalist?
I have been fortunate to have met several persons in my life who urged me to invest some of my free time in these recording projects. Since 1995, I have produced most of my recordings for SYRIUS, a small French label directed by Bernard Neveu, who gives me "carte blanche" to decide what, when, and on which organ I wished to record. Most of my recordings are made on historical instruments and are dedicated to one composer. Since 1989, I have recorded more than 30 CDs as a soloist and will continue in this activity as long as I feel that I can learn immensely from doing so.
10. For someone as young as you are, your accomplishments have been so impressive. Are there additional challenges calling to you, any goals as yet unfulfilled?
During my studies, I wrote a brief biography of Jehan Alain that was published in German (1983) and in French (1985). Unfortunately, many of my discoveries about Alain were made following these publications. Therefore, I wrote a second biography in French in 1989 comprising 236 pages. Although it includes a preface written by Olivier Messiaen, this book, connected with France, for some reason has not yet found a publisher. However, guided by my determination and my persistence, my inner voice tells me to cling to Jehan Alain's words, which are reproduced in the unpublished manuscript and were extracted from a letter to his godmother, Marguerite Evain, that is thought to have been written in March 1940: On n'a jamais abattu une force spirituelle par la persécution. C'est dans la douleur que naît la force véritable. (Never is intellectual energy discouraged through persecution. It is in tribulation that is born genuine strength.)
Peggy Kelley Reinburg
Copyright 2011, by the American Guild of Organists.
Reproduced by permission of The American Organist Magazine.